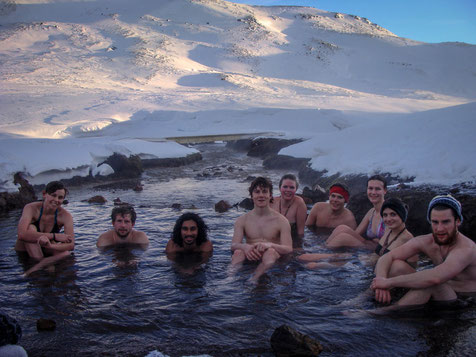 English below
Die erste Wanderung des Jahres begann am 17. Januar in Hveragerði. Wir waren anfänglich zu 4. Zufällig hatten wir die Kanadierin Heidi beim Warten auf den Bus kennengelernt, die dasselbe Tagesziel wie wir verfolgte. Außerdem dabei waren Jarved und Mathieu sowie einige Mitbewohner von Jarved.
Wir wurden vom Bus in Hveragerði abgesetzt und hatten zuerst einen Weg von 4.5 km bis zum Einstieg des 'hot rivers' "Reykjadalur" zurückzulegen. Stets kam uns ein starker Wind von vorn entgegen, der die Gesamtgeschwindigkeit enorm heruntersetzte. Heidi und ich begaben uns in Front der Wandergruppe und hatten trotz widriger Bedingungen aber durchaus begehbarem Anstieg die 3 km bis zum Fluss innerhalb 1 h geschafft.
20 Minuten nach uns erreichte der Rest der Gruppe den warmen Bereich des Flusses, wo wir auch 1h sitzen blieben; umgeben von Schnee.
Danach ging es zurück, das Anziehen fiel schwer aber der Gang zurück war durch den Rückenwind dann umso leichter.
Ein paar mehr Bilder von dieser Januar Winterland gibt es hier.

The first hike in the new semester – January 2015 – was accomplished to the hot river near Hveragerði. We (that have been Heidi, Javed, Mathieu and some flat mates of Javed) travelled in the morning from Mjódd in Reykjavík by bus to Hveragerði. Afterwards, we went along the small town to the starting point of the hiking trail.
The whole time, strong winds came ahead and slowed us down during our approach to the hot part of the river. Heidi and I went in front of the group. After appr. 1 h, we completed the distance of 3 km through the snow. 20 Min. later, the rest of our group arrived. Under a cloud free sky, we stayed there until 2 p.m. and went back, pushed through the strong wind from the back. The sunset just started and gave us an impressive view to the landscape of the western valley.