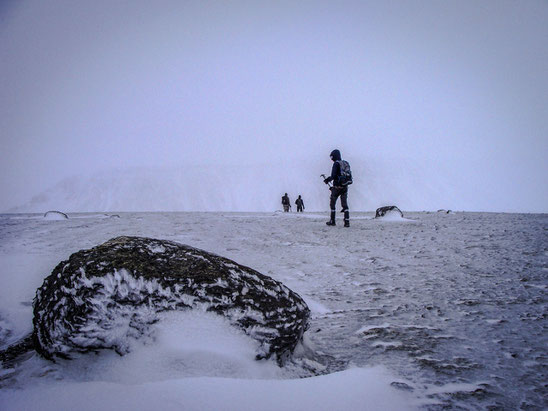 English below
Nach langen Überlegungen, was wir (Mikis, Yannis, Guillaume, ich) an einem Wochenende außer Nachbereitung von Uniaufgaben bei miesem, stürmischem Wetter machen sollten, entschieden wir uns für eine recht anspruchsvolle Wanderung auf der Rückseite von Mt. Esja.
Da Mt. Esja mit einigem Schnee und Eisbereichen übersät war, benötigten wir einiges an Ausrüstung. U.a., Klettergurt, Eis Äxte, ein Seil und natürlich den Sturm und kälte Bedingungen gerechte Kleidung.
Wir fuhren per Anhalter (der uns im Übrigen für völlig verrückt erklärte) in die Nähe des Hvalfjörður Tunnels und starteten von dort unsere Wanderung.
Über zu erkletternde Felsen und Schneefelder ging es die Rückseite des Bergs Esja hinauf. An einem recht steilen Hang mit großem Schneefeld legten wir uns alle die Klettergurte an, um uns mit dem Seil verbinden zu können. In einer Reihe ging es dann weiter bis zum höchsten Punkt des Plateaus.
Dort angekommen führten wir Fallübungen mit den Eis Äxten durch bevor wir weiter gingen aber bereits 15 Uhr wegen zunehmendem Sturm umkehrten.
Durch tiefen Schnee ging es letztendlich zum Ausgangspunkt zurück. An einem steilen Hang neben der 'Ringroad 1' wiederholten wir die Fallübungen. Um ca. 16.30 Uhr fuhren wir bei Orkanböen wieder per Anhalter nach Reykjavík zurück.
English version
We've been thinking a long time during the last week what to do on a weekend with bad, stormy weather? We found a solution for a small "good" weather window on Saturday morning to early afternoon on the Mt. Esja.
Esja was covered with snow and contains icy ways. Therefore, we (that have been: Mikis, Yannis, Guillaume, me) needed to bring with us equipment as harnesses, a rope, ice axes and harsh weather proofed clothes.
We hitchhiked in the morning to the backside of Esja (by the way, the driver said, we must be "crazy" by going there) and started on the side near Hvalfjörður tunnel with the hike.
On the way up, we passed some ice fields and climbing passages. One steeper slope with a big ice field, we all connected our self with a rope and went on in line.
On top of the backside of Esja we did some practising of using the ice axe in the right way, when falling down the hill. After a short time, the wind speed increased and we went back to our starting point around 3 pm through deep snow fields. Finally, when we arrived the ring road 1 we repeated the practise session with the ice axe on a precipitous slope. Around 4 pm we hitchhiked back to Reykjavik.
You will see some pictures right here.