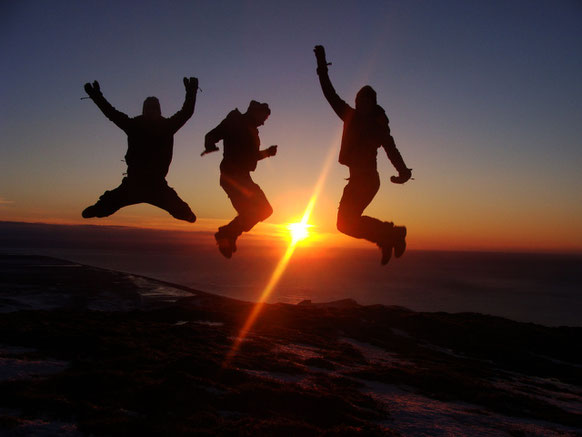 English below
An einem Freitag (30.01.) trampten Yannis und ich nach sämtlichen Universitätsveranstaltungen direkt gen Südosten von Island, nach Vík. Erstaunlicherweise benötigten wir dafür gerademal 3 h und konnten somit ca. 17 Uhr einen atemberaubenden Sonnenuntergang am schwarzen Strand von Vík erleben.
20 Uhr, nachdem wir im Vík Hostel eingecheckt hatten, schloss sich uns Mikis an, der mit uns die anstehende Tour erleben wollte.
Am darauffolgenden Tag (Samstag, 31.01.) startenden wir früh im dunklen um 8 Uhr vom Hostel und stiegen direkt in den Berg ein. Unser Ziel war es, den Sonnenaufgang gegen 10 Uhr von einem hohen Punkt aus zu erleben. Dies schafften wir auch, als wir 9.40 Uhr den Berg "Hatta" erreichten. Dort bot sich uns ein wunderbares Farbenspiel sowohl über dem Meer mit der aufgehenden Sonne als auch auf dem Gletscher Myrdalsjökull bzw. Mt. Katla. Wir gingen danach wieder hinunter vom Hatta und folgten einer Kette von Hügeln (die teilweise enorm vereist waren) zu einer Abbruchkante mit enorm weitläufigem Ausblick.
Vor uns erschloss sich ein Tal mit einem weit fächernden Flusslauf. Dieser Fluss resultierte aus den Schmelzwassern des Gletschers und hatte sich mit der Zeit ein breites schön anzusehendes Flussbett in den Fels erodiert. Selbstverständlich legten wir an dieser Klippe eine Mittagspause ein!
Danach gingen wir in dieses Tal hinab. Wir wollten ursprünglich gen Osten um am Ende auch östlich von Vík auf die Ringstraße 1 zu treffen. Nachdem wir bereits einen dieser eiskalten Flussarme durchfurtet hatten, stellten wir ernüchtert fest, dass wir die anderen sich kreuzenden Flüsse nicht in der erwarteten Zeit schaffen würden.
Wir kehrten daher um und nahmen uns den wesentlich einfacheren Westteil des Tales vor, ohne weitere Flüsse Furten zu müssen. 16 Uhr erreichten wir die Ringstraße und warteten in Summe etwas mehr als 1 h, bis uns einer der Autofahrer Richtung Selfoss mitnahm. Eine Menge anderer Fahrzeuge passierte uns schlicht in dieser Zeit. 20 Uhr abends erreichten wir doch dann endlich wohlbehalten Reykjavík.
Hier gehts zu den Bildern der zwei Tage.


English Version
Around 2 p.m. on a Friday (30.01.), Yannis and I started a hitchhiking trip to Vík, starting from Reykjavík. We had been lucky all the way down to the Southeast of Iceland, because we reached Vík already after 3 h at 5 p.m. In Vík, we went to the beach and watched the awesome sunset at the black coastline with their famous monuments.

On the night at 8 p.m., after checking in into the Vík Hostel, Mikis joined us for our next trip in direction Myrdalsjökull or along the foot of Mt. Katla.
The next day (Saturday, 31.01.) was cloudless and surprisingly windless. We started our hike at 8 a.m.in the dark from the Hostel directly up the hill.
Our big aim was, to reach a high point, to see an amazing sunrise around 10 a.m. Finally, we managed this and had been standing on Mt. Hatta at 9.40 a.m. Later one, we went down from Hatta and followed the rim of several elevations to an abrupt ending of the high area: A stunning view over a wide valley with a fanned river appeared to us. Of course, we made a lunch break there.
Afterwards, we went down to the valley. Originally, we wanted to go more east to reach the ring road 1 as well in the east of Vík. But, after crossing (barefoot) one river, we stopped the approach to the east. Discouraged of too much crossing rivers, we went back along the more easy western part of the valley to the ring road 1.
We reached here around 4 p.m. and had been waiting in sum for around 1 h to get a car by hitchhiking which takes us back to Reykjavík. In the end, we reached Reykjavík safely at 8 p.m.
If you're interested in the pictures of the hike, follow this link.