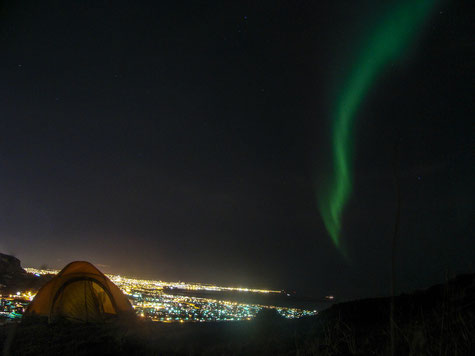 English below
Um Erfahrungen im Winter zelten zu sammeln, nutzten wir (Yannis, Ich) die Gelegenheit aus um aus Reykjavík raus zu kommen.Weit ging es jedoch nicht, war nicht weiter schlimm, denn kalt war es überall (< 10°C). So fuhren wir zur Helgafell in der Nähe von Mosfellsbær, um die Nacht im Freien zu verbringen. Auch wollten wir unsere Ausrüstung für den in 1 Woche beginnenden "Winter Mountaineering" Kurs testen. Am Samstag ging es bei wolkenfreiem Himmel die Bergkette des Mt. Helgafell entlang.

Impressionen des Ausflugs gibt es hier.

No night is cold enough to stop us going out. To gain experience in winter camping, Yannis and me went on a Friday afternoon outside of Reykjavík to Mt. Helgafell near Mosfellsbær. Additionally, we wanted to test our equipment for the in 1 week starting lecture "winter mountaineering".
Afterwards spending the night under a cloud free sky with northern lights and <10°C, we went the next morning along the mountain chain of Helgafell. Finally, we hitchhiked back to Reykjavík.

To see some pictures of the trip, see here.