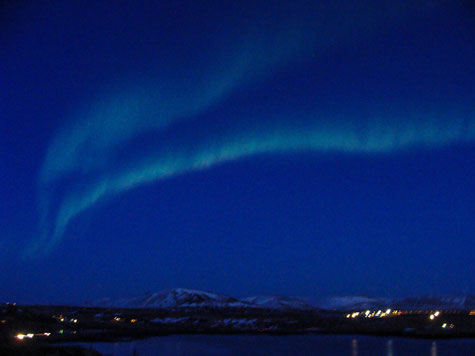 English version below.

Eine starke Sonneneruption war Ursache für intensive Nordlichter über Island an diesem Abend. Daniel und ich hatten es satt und gingen am späten Nachmittag auf eine Wanderung auf die Esja. Als wir hinab stiegen, sahen wir plötzlich sich schnell bewegende Wolken. Unmittelbar war uns klar, das diese Wolken starke Nordlichter sind. Selbst während des Sonnenunterganges waren diese bereits sichtbar.

Hier sind ein paar mehr Bilder dieses Phänomens

A big solar eruption was the reason for some intense northern lights in the evening and night over Iceland (highest possible level). Daniel and I had been hiking on Esja after studying. When we came down from the mountain, we suddenly saw wired fast moving clouds. When we took a second look, we recognised that this had been strong northern lights. Even at sunrise, they had been already visible.

Some more pictures of this phenomenon