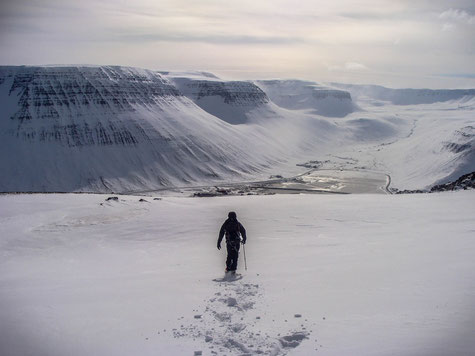 English below
Der Weg nach Ísafjörður zum Musikfestival "Aldrei fór ég suður" war aufregend und voll neuer Erfahrungen und Geschichten, von langen Abenden mit geselligen Isländern, über weite Wanderungen durch mächtige Fjorde, niemals endende Wartezeiten auf die nächste Mitfahrgelegenheit und 2.5 Tagen dauernassen Füßen, entspannten Konzerten uvm.
Dies könnt ihr unter diesem Link nachlesen und an einigen Bildern nachvollziehen.
The way to Ísafjörður and the music festival "Aldrei fór ég suður" was long and picked with several stories. For example long nights with funny and friendly Icelandic mussel farm owners, long hikes along snow covered wide fjords, never ending waitings for the next hitch hikes, 2.5 day long wet socks / shoes and pleasant music nigths durng the festival and much more.
You can read more and take a look at several pictures of the last 6 days of travelling to the last part of Iceland-the Westfjords.