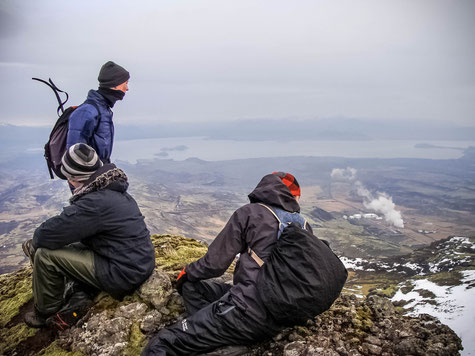 English below
Nachdem wir am vergangenen Samstag die Wanderung auf den noch immer aktiven Vulkan Hengill nicht in die Tat umsetzen konnten, hatten wir diese uns für den heutigen Samstag vorgenommen.
Wir starteten zu 4. (Anders, Yannis, Linus und Ich) vor dem BSÍ um 8:45 und erreichten nach kurzer Fahrt 9:30 bereits Mt. Hengill an der Nordflanke. Wir parkten unser Auto an den Wassertanks der Fernwärmeleitung des geothermischen Kraftwerkes von Nesjavellir und begannen den Aufstieg. Zu Beginn hatten wir erhöhte bedenken, da die Gaswolke mit hohen SO2 Gehalt (>600 ppm) vom Bárðarbunga nach Westen in Richtung Rvk. getrieben werden sollte. Dies traf, wie man anhand dieses Berichts hier sehen kann, nicht zu (;. Die Wolke streifte Rvk. weit im Süden und war daher unbedenklich.
Für die Besteigung des Gipfels benötigten wir ca. 2 h. Das Wetter war bis zum höchsten Punkt sehr erträglich. Je näher wir dem Gipfel kamen, desto böiger wurde der Wind und am Gipfel lagen schließlich vermutlich Windgeschwindigkeiten von 15-20 m/s vor. Lange blieben wir nicht und machten uns daher nach ausführlichem Genuss mit Blick auf Reykjavik, Þingvallavatn, Vifílsfell etc. wieder hinab.
Der Abstieg verlief teilweise über vereiste Schneefelder, dicke & abstrakt aussehende Moosfelder und an beeindruckenden Vulkangesteinsformationen und -Lagerungen vorbei. Auf einem Schneefeld sahen wir einen weißen Vogel sitzen, einer Gattung zuordnen konnten wir diesen leider nicht. Was denkt ihr (s. Bilder)?

Nach der Ankunft am Fahrzeug fuhren wir im Anschluss auf der Nordseite hinab zum Þingvallavatn, bzw. in Richtung des Geothermiekraftwerkes Nesjavellir. Dort gab es einen "hot River", der zugegebener Maßen leider gar nicht so 'hot' war.  Außerdem war dieser Bach mit weißen, rutschigen und Schwefel reduzierenden Bakterienmatten am Grund des Wasserlaufes besetzt. Dies machte das ruhige Sitzenbleiben in diesem strömungsstarken Bach fast unmöglich.
Wir fuhren daher bald nach Rvk. zurück und schlossen dieses Mal die Tour am Abend würdig mit einem Besuch im Café ab.
English: The Hike to Hengill
After the last bike trip on Saturday the 11.10., we decided to turn our plans to hike up Mt. Hekla into reality.
We started at 8:45 in front of BSÍ. We, that were Anders, Yannis, Linus and me. After a short drive along the road 1 and 435, we reached Hengill at the northern slope of the old, but still active volcano. The start of our hike was next to two water tanks of the districted heating pipeline of the geothermal power plant Nesjavellir. In the beginning of our tour, we had some concerns because of the predicted gas cloud, coming from the volcano Bárðarbunga from the east. The forecast said, that the cloud will have a very high SO2 concentration (>600ppm). But in the end, the cloud was predicted more to the south and didn't hit our hiking route.
We needed 2 h to reach the top of Hengill. The weather was fine up the whole way. Except near and on top the mountain. There were huge and strong winds (app. 15-20 m/s). Therefore, we didn't stay long there. After taking a long-sighted view to far Reykjavik, Þingvallavatn, Vifílsfell etc., we went back down the volcano.
The way back to the car was partly a bit tricky. It was icy on the way. But there were some fascinating volcanic formation's and stratification's as well. Along thick moss fields, we went back and suddenly saw a white bird, sitting on a snow field. Do you know the name of this bird (take a look at the pictures).
When we arrived the car, we drove in direction to Nesjavellir power plant and stopped next to a 'hot river'. Unfortunately, this one wasn't very hot, but lukewarm. In addition, it was hard to stay at a specific place in the river because of the high flow rate and white bacterial mats on the ground. That was really slippery (;.
After a short period we drove back to Rvk. and had a venerable end of the tour in a cozy café house in Reykjavik.
And here they are, the pictures of our hiking trip// Die Bilder der Mt. Hengill Wanderung gibt es hier.